Your Guide to FootGolf: How to Play FootGolf
Add a splash of golf, a dash of soccer and a whole bottle of fun, and you get FootGolf! A unique sport championed locally by FootGolf Australia, FootGolf combines the power and physicality of ball sports, such as soccer, with the precision of a traditional game of golf. This makes it a fun and highly accessible sport that anyone can enjoy.
Located just 40 minutes from Melbourne's CBD, Eynesbury is proud to be one of just a few golf courses in Victoria offering FootGolf. Why not book a session today to try it for yourself? 
What is FootGolf?
Much like the game itself, the word 'FootGolf' is a combination of 'football' (soccer) and 'golf'. 
The beauty of FootGolf is it requires very little equipment or training to get started, so it can be played by virtually anyone, regardless of age, skill level, or physical capabilities. It's also perfect for people who enjoy kicking a ball around without the physical intensity of soccer. 
FootGolf also makes an excellent alternative for those who don't have the time or patience for a traditional game of golf. In fact, this fast-paced sport can be played in a little over an hour. This makes it a great option for introducing children to some of the rules of traditional golf in a fun and engaging way.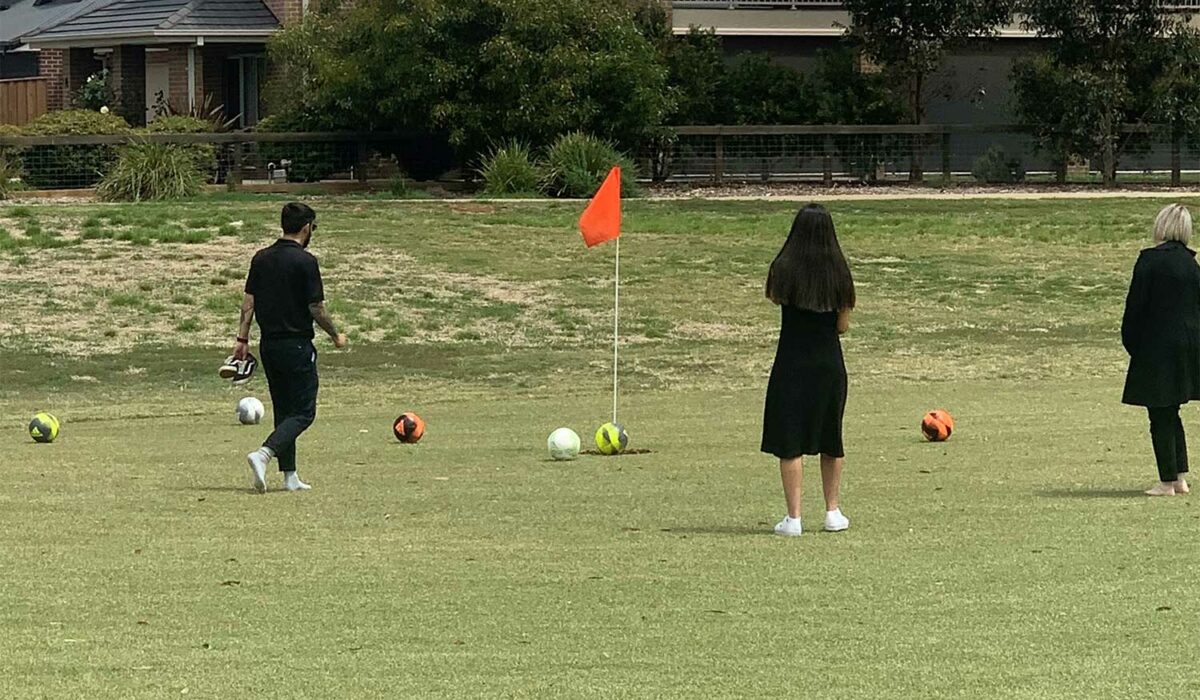 How Do You Play FootGolf?
The aim of FootGolf is to kick a soccer ball into a series of large holes in as few shots as possible – much like regular golf. While the game is played on a golf course it requires no golf clubs, making it a relatively inexpensive sport to get started with. 
To help keep the game running smoothly and without interruption, FootGolf is traditionally played with a maximum of four people. At Eynesbury, we want to offer fun that the whole family can enjoy, so you're always welcome to get in touch to discuss how we can accommodate larger FootGolf parties.
What Are the Rules and Basics of FootGolf?
The sport as we know it today was created in the Netherlands by Bas Korsten and Michael Jansen in 2008. The first tournament was held in the Netherlands on 6 September 2009. 
Many of the rules of FootGolf are modelled off traditional golf rules, while physical gameplay better reflects the techniques and equipment used in soccer. 
Play usually begins at the 'Teeing zone', with each hole presenting players with different obstacles, such as water hazards and bunkers, before they can reach the green – the area where the hole is located. 
Here are the basic rules of FootGolf: 
No soccer shoes with hard cleats
The ball must be played in a single movement – don't push the ball with the top or bottom of your foot

Play the ball where it lies – even if it lands in a bunker

If one player's ball strikes another, the ball at rest shall be returned to its original position

If your ball is obstructing another player's shot, you can temporarily lift it out of the way after marking its position 

The player with the best score will kick off first on the next hole

After kick-off, the player furthest from the hole kicks first

If your ball lands in a water hazard it can be dropped within two steps of the nearest clear land point of entry at a cost of +1 penalty 

If you must kick from the bunker, rake it after you play

Be courteous and respectful to other golfers and footgolfers at all times
Explore the full list of official rules of the game from the Federation for International FootGolf (FIFG).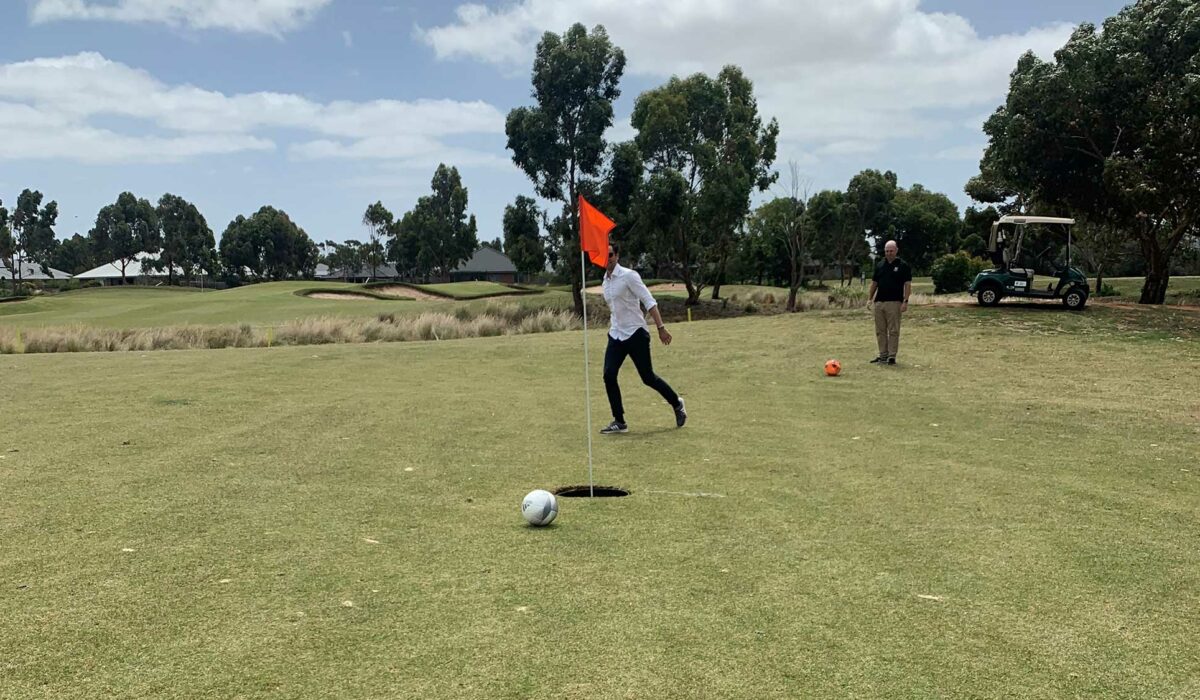 FootGolf Fashion: What to Wear at Your Next Golf Day!
In official FIFG tournaments, players must wear golf-style shorts (shorts or a skirt for women), a collared shirt, and long socks, which must be worn to the knee at all times. Footwear should be designed for AstroTurf or indoor sports, and cleats of any kind are not permitted, nor are golf shoes, shoes designed for traction in sport, or shoes with modified or strengthened tips. 
Clothing and footwear can be changed between holes but not during play unless damaged. Kicking without shoes will incur a +1 penalty, and the shot will need to be replayed with proper footwear. 
Outside of tournaments, the rules are typically a little more relaxed – though this will depend on which club you're playing at. At Eynesbury, we recommend comfortable, weather-appropriate casual clothing that doesn't restrict your movement, particularly when kicking the ball. Acceptable attire includes sports clothes and activewear.
Shoes must be worn at all times, and cleats are not permitted. To prevent injury while kicking, we strongly recommend avoiding open toed shoes.
How Long Does a Game of FootGolf Take?
Completing a round of FootGolf is much faster than in a traditional game of golf. It generally takes about an hour for two people to complete a 9-hole course, though longer courses or larger groups will take longer. The speed of play makes FootGolf an excellent alternative for busy people who only have a couple of hours free. 
At Eynesbury, FootGolf is played over a 12-hole course, meaning it will take two people roughly 1.5 hours to complete. 
Where to Play FootGolf in Victoria?
Currently, there's only a handful of accredited FootGolf courses in Victoria – and we're one of them! Located just 40 minutes West of Melbourne's CBD, you can enjoy a 12-hole round of FootGolf against the lush, green backdrop of our world-class golf course.  
Book Your FootGolf Day Out Today!
Ready to try your hand (or foot) at FootGolf? Whether you're enjoying a day out with the family or looking to try something new with your friends, there's no better time to book your session than right now. 
Organise a game of FootGolf today and you'll be kicking your way across the green in no time!
Book FootGolf Today